Federated Health Charities' mission is to improve the health and quality of life of all Ontarians by supporting 21 different health charities providing critical services to those experiencing, or affected by, illness. We believe education and prevention are key parts of supporting the health of our communities, so our weekly Health Hint series strives to provide tangible and easy to implement hints and tips on how to maintain your health, prevent disease, and enjoy increased quality of life. Check out our latest Health Hint on the benefits of gratitude. We hope you find it helpful. If you would like to join our efforts to support the health of Ontario, please consider a donation to Federated Health Charities.
"The word gratitude is derived from the Latin word gratia, which means grace, graciousness, or gratefulness" (Harvard Health Publishing, 2021). Gratitude is the act of acknowledging the positives, or good, in life. It involves thankful appreciation for what you receive and those who have helped you receive it. This can apply to tangible things you receive, but also intangible such as support, opportunities, or kindness. There is ample research to confirm that living a life of gratitude is consistently linked to positive mental, physical, and emotional health outcomes. According to Harvard Health Publishing (2021) "people feel and express gratitude in multiple ways. They can apply it to the past (retrieving positive memories and being thankful for elements of childhood or past blessings), the present (not taking good fortune for granted as it comes), and the future (maintaining a hopeful and optimistic attitude)."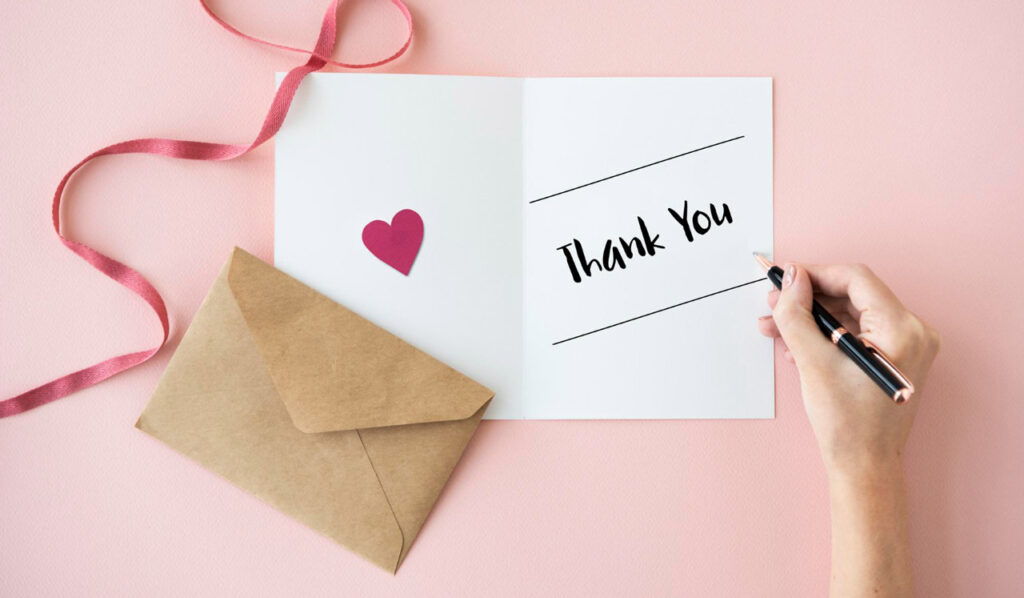 Benefits of Gratitude
– Increased generosity: gratitude can decrease our focus on our self and make us more likely to share with others.
-Increased optimistic: showing gratitude makes us see things through a more positive lens, which results in us thinking about things more positively.
-Improved physical health: People who live a life of gratitude report feeling healthier and are also more likely to care for their health.
-Improved emotional health: gratitude lessens emotions such as anger, resentment, and regret which increases happiness and reduces depression.
-Increases mental strength: `gratitude reduces stress, increases resilience, and can aid in overcoming trauma.
-Improves sleep: since gratitude reduces negative emotions it leads to reduced rumination, anxiety, and stress during the night, which results in improved sleep.
-Improves relationships: expressing appreciation to those around you strengthens bonds, opens communication, and deepens connections.
-Increased self-esteem: gratitude can reduce social comparison, increase self-compassion and self-love, and lead to greater sense of self-worth.
Ways to Express Gratitude
-write a thank-you note
-thank someone mentally
-verbally express appreciation for others
-keep a gratitude journal
-count your blessings
-meditate
-list 3 things your grateful for that day, at bedtime
We hope you enjoyed our latest Health Hint!
Resources
Giving thanks can make you happier
7 Scientifically Proven Benefits Of Gratitude That Will Motivate You To Give Thanks Year-Round
Benefits of Gratitude: 28+ Surprising Research Findings
Related Articles:
Making a Personal Investment in Health Through GivingTuesday