Federated Health Charities' mission is to improve the health and quality of life of all Ontarians by supporting 21 different health charities providing critical services to those experiencing, or affected by, illness.  We believe education and prevention are key parts of supporting the health of our communities so our weekly Health Hint series strives to provide tangible and easy to implement hints and tips on how to maintain your health, prevent disease, and enjoy increased quality of life.  Check out our latest Health Hint on the diaper rash and steps you can take to prevent it.  We hope you find it helpful.  If you would like to join our efforts to support the health of Ontario please consider a donation to Federated Health Charities.
Diaper rash (Diaper dermatitis)
Diaper rash is a type of site-specific contact dermatitis and can be an irritant. Diaper rash, in its mild form, is characterized by scaling, dryness, itching, stinging, and burning sensations in the affected area. The outer layers of the skin are shedding abnormally (known as desquamation) and make the skin superficially red (known as erythematous).  In severe conditions, the skin becomes more defective, turning over to vesicles, papules, eruption and intense erythema, especially in the genital area.
Reasons for diaper rash
The major cause of diaper rash is persistent and continued exposure to moist and wetness touching the skin. Prolonged skin contact with urine, feces and ammonia make the skin scrappy and irritated. Furthermore, insufficient air reaching the baby's diaper area creates an acidic and moist environment, leading to swelling of the skin through penetration of irritants.  Microbes, such as Staphylococcus aureus and Candida albicans, can cause this problem. Infection by microorganisms can occur frequently in infants, if not managed effectively.
Prevention of diaper rash
Prevention of diaper rash is important. Parents should keep an eye out for any signs of discomfort in the infant to catch any potential problems before they fully develop. Steps to take to prevent diaper rash include:
Letting the area be exposed to air flow, periodically.
Use absorptive, anti-inflammatory, and anti-fungal agents if required.
Use baby powders to make barriers between the skin and diaper for preventing or treating skin frictions.
Dress the infant in gentle and soft clothes.
Do not wipe the skin by the diaper with chemicals or alcohols, do not use wipes with sanitizers.
Purchase good quality diapers.
Discuss with your child's healthcare professional about prevention and treatment of diaper rash.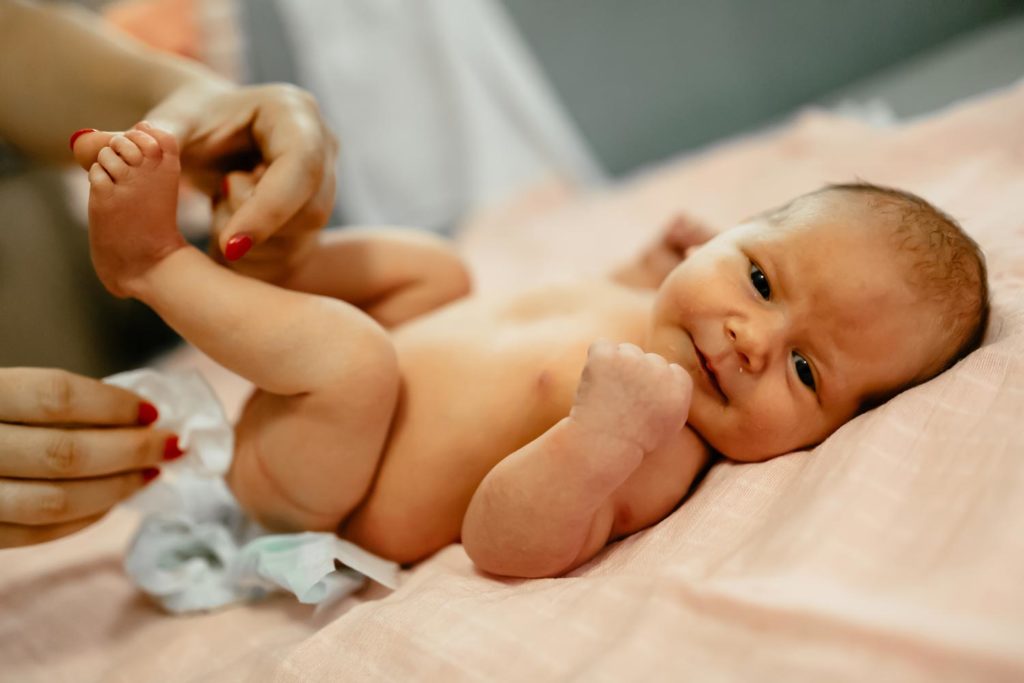 Preventing diaper rash progression
Above we discussed ways to prevent diaper rash from occurring. If skin inflammation and swelling has already occurred though, it is important that they be relieved and resolved, to prevent further complications. The affected area can be assessed for possible emission, discharge, vesicles (bubbles of liquid within a cell), and ulceration. You also need to observe whether the baby has nausea, fever, or rashes outside of the affected area. This will allow you to determine the severity of the problem, which allows you to focus on treatment options.  Early management if diaper rash is important as secondary infections of the skin, such as infection in penis or vulva, skin lesions and bleeding can occur if left untreated. If you see symptoms such as fever, urinary tract infection, and behavioral changes such as tiredness, persistent crying, and sleeping disorder, you might be dealing with a secondary infection on top of the diaper rash.
Helpful products
There are several options that exist in the pharmacy for preventing and treating of diaper rash. Discuss the best option for your child with your health care provider. Some interventions that have been shown to be effective include anti-fungal agents, miconazole nitrate 2% cream, and nystatin.
Barrier products are the main remedy for prevention and treatment of diaper rash. There are two types of these products, water permeable barrier and water absorptive barrier. Some examples of these include zinc oxide ointment, Vaseline, lanoline, and Eucerin.
For medication always consult with a health professional. Preventive measures, such as frequently changing the diaper, allowing regular air flow and using barrier powders are the primary steps you can take at home to prevent this issue from occurring for your infant. 
We hope you liked out latest Health Hint!
Written by Mohammad Zafar Omari
References
CTMA 2019 ‑ Compendium of Therapeutics for minor ailments. Diaper dermatitis
Ciclopirox Olamine Topical: Uses, Side Effects, Interactions, Pictures, Warnings & Dosing—WebMD. https://www.webmd.com/drugs/2/drug-8547/ciclopirox-olamine-topical/details
Eucerin Original Topical: Uses, Side Effects, Interactions, Pictures, Warnings & Dosing—WebMD. (n.d. https://www.webmd.com/drugs/2/drug-152530/eucerin-original-topical/details
Diaper rash—Symptoms and causes—Mayo Clinic. https://www.mayoclinic.org/diseases-conditions/diaper-rash/symptoms-causes/syc-20371636
water permeable barrier diapers.  https://www.google.com/search?q=water+permeable+barrier+diapers&client=firefox-b-d&gbv=1&sei=aUhLYfHhEIfj5NoP7K22sAc What Causes Diaper Rash? | DESITIN®. (n.d.). Retrieved September 18, 2021, from https://www.desitin.com/identifying-diaper-rash/what-causes-diaper-rash
If you would like to support the health of Ontarians, you can donate to Federated Health Charities