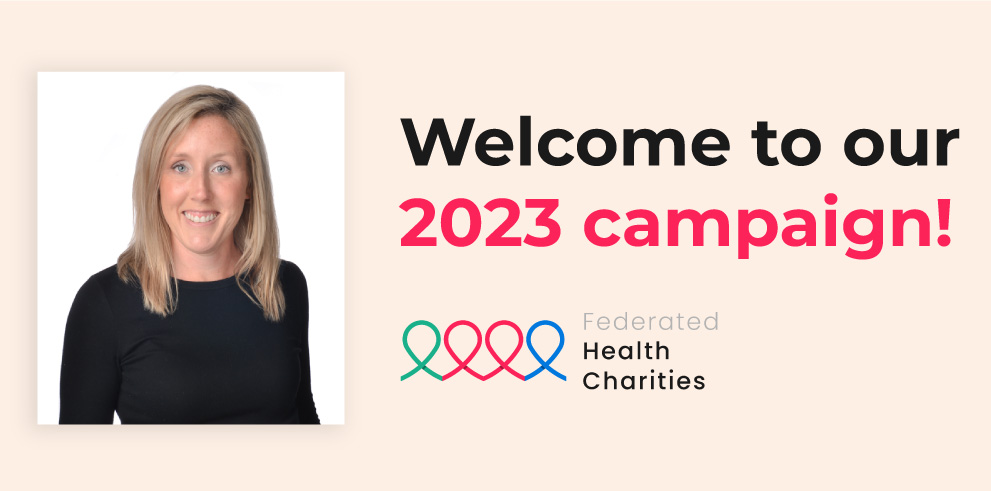 As the Executive Director of Federated Health Charities, I want to welcome you to our 2023 Campaign.
Federated Health Charities was founded in 1983 and we are only here, 40 years later, thanks to the support and generosity of Ontario Public Service employees in government offices, crown agencies and the OPP across Ontario. On behalf of Federated Health Charities' 21 members and from the bottom of my own heart, I want to say a sincere thank you to all Ontario public servants, past and present, for your support and offer you our congratulations on 40 years of the Federated Health Charities campaign.
In this, our 40th year, I hope you will join me in celebrating your OPS legacy of volunteerism, generosity and commitment to helping our fellow Ontarians by getting involved in this year's Federated Health Charities campaign. Your support is needed now more than ever.
As someone who comes from the not-for-profit sector, I can tell you that the past year has been very tough for organizations that rely on charitable giving to fund their programs and services. Our member charities are often the first call people make after receiving a diagnosis and they provide unique programs and services to help clients and patients negotiate treatment and recovery. I know how hard these organizations work to stretch a dollar. I promise you that 100% of every donation to Federated Health Charities goes directly to our members to help fund the critical work they do.
So I am asking you to please get involved in the 2023 Campaign. In the coming days and weeks, ministries, agencies and the OPP will be launching their Federated Health Charities campaigns. If you're interested in helping with your local campaign, you can find a list of current campaign chairs on our website. Each campaign will be organizing special events and fundraisers, which is a great way to connect with your colleagues while supporting a great cause. And we are once again holding our Federated Health Charities lottery between April 3 to June 25, 2023. Only 25,000 tickets will be sold, so I encourage you to buy yours early.
But the easiest and most efficient way to support Federated Health Charities is by donating through a payroll pledge. Over 80% of the donations to our campaign each year are made through payroll pledges. When you sign up to donate via a payroll pledge, you can choose to dedicate your donation to specific charities or all 21 Federated Health Charities with the click of a button. You can also choose between making a one-time donation or spreading out your donation across multiple pay periods – it's up to you!
Pledging a set amount for each pay period – either through WIN or by filling out a donation form and giving it to your campaign treasurer – is a great way to make your donation go further. Setting aside as little as $3 a week ($6 per pay period) adds up to a gift of $150 over a year, money that can help pay transportation and accommodation expenses for people undergoing cancer treatment. Donating $10 per pay period turns into $260 to help fund support and services to help children and youth with autism thrive at home, in school and in the community, or provide equipment to help people with spinal cord injuries or other physical disabilities live more independent lives. With every contribution to Federated Health Charities – big or small – you are changing lives for the better.
Federated Health Charities started small – a handful of Ontario public servants who wanted to help by raising some money for the Canadian Cancer Society's Daffodil Campaign – and we have grown so much over the last 40 years. From then to now, the success of the Federated Health Charities campaign is a testament to the dedication, generosity and hard work of Ontario's public servants and your commitment to serving the people of Ontario. Whether this is your first Federated Health Charities campaign or your 21st, all Ontario public servants can take pride in what 40 years of Federated Health Charities has accomplished.
As we look to this year's campaign, I hope you will help us continue this legacy by getting involved and giving generously to help our charities improve the health and well-being of our fellow Ontarians.
Sarah Wood
Executive Director