Federated Health Charities' mission is to improve the health and quality of life of all Ontarians by supporting 21 different health charities providing critical services to those experiencing, or affected by, illness.  We believe education and prevention are key parts of supporting the health of our communities so our weekly Health Hint series strives to provide tangible and easy to implement hints and tips on how to maintain your health, prevent disease, and enjoy increased quality of life.  Check out our latest Health Hint on the options available for mental health treatments.  We hope you find it helpful.  If you would like to join our efforts to support the health of Ontario please consider a donation to Federated Health Charities. 
Mental health treatments are offered in a variety of methods and techniques. Being aware of these methods and the steps to accessing this type of treatment will assist you in moving forward with managing your mental health. There are many treatment options; depending on what you are struggling with and your symptoms, the services being offered in your region, and your personal treatment plan. It is best to consult your health care provider to assess the best treatment methods for your specific situation.  In this article, you will learn about 3 common treatments including psychotherapy (talk therapy), medication, and brain stimulation.
Option 1 – Psychotherapy / Talk therapy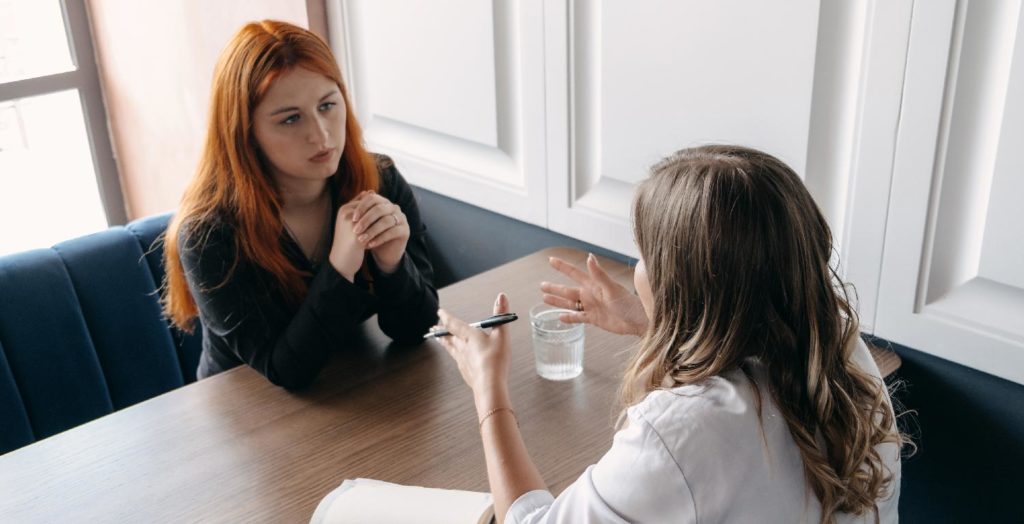 What is it?
Psychotherapy, also known as "Talk Therapy", is one of the many methods used to treat mental illnesses. It involves counseling a mental health professional and speaking with a professional to make a plan to treat one's mental illness. Individual, family, and group counselling sessions are the most common techniques. There are many types of Psychotherapy including
Animal-assisted therapy
Creative arts therapy
Play therapy
Psychoanalysis
Psychodynamic
Dialectical behavior therapy
Interpersonal therapy
Cognitive behavioral therapy
And more!
Who is it for?
Psychotherapy is a treatment method that is available to a vast majority of patients. Psychotherapy can treat anything from phobias to anxiety disorders. The treatment and method is different for anyone who chooses to take the psychotherapy route and will be based on personal preference and specific needs. For example, a person suffering from depression would need a different plan than someone who is suffering from anxiety. Psychotherapy can be very customizable and is not a 'one-size fits all' approach.
What does it cost?
Costs depend on your practitioner and your specialized plan. Government-controlled clinics and centers are covered by OHIP (Ontario Health Insurance Plan). However, private-practice clinics and centers may require fees. If you have benefits through your workplace, they may cover a portion of these fees.
How to access?
The first step to receiving psychotherapeutic treatment is to look for a mental health professional. This could be a psychiatrist, psychologist, therapist, psychiatric nurse, etc. The College of Registered Psychotherapists of Ontario is a great resource to help you find a professional to fit your needs. Each practitioner focuses on different challenges or populations, so be sure to find one that meets your specific needs to ensure a good fit.
Option 2 – Medication
What is it?
Pharmacological therapies (medications) are usually used alongside another treatment method.  It is not uncommon for medications to be used in conjunction with psychotherapy. Different medications are used to treat different illnesses. Some common medications include
Antidepressants
Anti-Anxiety
Stimulants
Antipsychotics
Mood stabilizers
Who is it for?
Unlike psychotherapy, medication is intended for a specific group of individuals. Not all individuals suffering from a specific mental illness must take medication for treatment. After speaking to a professional, medications can be prescribed based on one's needs.
What does it cost?
The cost ultimately depends on the specific drug, and your personal plan. Medications are covered by OHIP if the patient is 0-24 years old. Anyone 25 and over can benefit from programs offered by the Ontario Ministry of Health and Long-term care to help pay for their prescribed medications.
How to access?
Getting medication requires a prescription diagnosed by a healthcare professional (Ex. MD, nurse practitioner, psychologist, etc).
Option 3 – Brain Stimulation treatments
What is it?
Brain stimulation treatments are also used as a therapeutic method for treating mental illnesses. This method focuses on using electricity to communicate with the brain. Because electricity and electrodes are involved, this procedure is uncommon, and usually performed if psychotherapy and medication aren't effective enough.
Who is it for?
This treatment is recommended for patients who find that psychotherapy and medications aren't as effective for them. This plan must be recommended and arranged by a doctor, as a part of one's treatment plan. There are a variety of Brain Stimulation techniques used to treat specific scenarios.
Deep brain stimulation is currently used to treat
Parkinson's disease
Essential tremor
Dystonia
Epilepsy
Obsessive-compulsive disorder
Deep brain stimulation is being studied to widen the range of illnesses that can be treated using this treatment method.
How to access?
To get to this stage of treatment, your medical professional would have to take you through a screening process to diagnose your situation first. Because brain stimulation treatments are a last resort to treating a mental illness, accessing this treatment will be a multi-step process.
To learn about the pathways to receiving brain stimulation treatments for your illness, you can visit https://www.mayoclinic.org/tests-procedures/deep-brain-stimulation/about/pac-20384562
What can you do on your part?
Alongside your treatment, you can find activities to do on your part to support your well-being during these times. Some include
Following your treatment plan
Staying active
Making healthy choices
Learning about your illness
Reaching out for support (Support groups, staying connected with friends and family)
For additional resources to support your well-being, you can visit
Ontario's mental health services for kids and youth
https://www.ontario.ca/page/mental-health-services-children-and-youth
Learning about Mental Health in kids and youth
https://www.ontario.ca/page/children-and-youth-mental-health-signs-and-symptoms
Community support services (Ontario)
https://www.ontario.ca/page/community-support-services
We hope you enjoyed our latest Health Hint!
Written by Shiyami Selvapavan
References
https://mhanational.org/finding-therapy
https://www.nimh.nih.gov/health/topics/psychotherapies
https://www.mayoclinic.org/tests-procedures/deep-brain-stimulation/about/pac-20384562