Federated Health Charities' mission is to improve the health and quality of life of all Ontarians by supporting 21 different health charities providing critical services to those experiencing, or affected by, illness.  We believe education and prevention are key parts of supporting the health of our communities so our weekly Health Hint series strives to provide tangible and easy to implement hints and tips on how to maintain your health, prevent disease, and enjoy increased quality of life.  Check out our latest Health Hint on how to set realistic and attainable health goals.  We hope you find it helpful.  If you would like to join our efforts to support the health of Ontario please consider a donation to Federated Health Charities. 
Where to begin?
It can be difficult to know where to begin if you're interested in improving your overall health. Health goals can span eating, exercising, sleeping, mental health, or letting go of bad habits like smoking or excessive drinking. To prevent feeling overwhelmed or setting overly ambitious goals, many experts suggest setting SMART goals, regardless of what your objectives may be. Setting SMART goals will help you stay on track and develop healthy habits. A SMART goal is specific, measurable, achievable, realistic (or relevant), and time-bound. Let's take a look at how to apply SMART goals to improving your health.
Improving physical health
Before exercising, consider getting a physical evaluation from a medical professional to check for any underlying health conditions. A medical professional can guide you in selecting exercises or activities appropriate for your fitness level. An example of a SMART goal for improving physical fitness can be this: walking for 20 minutes at a brisk pace 3 times a week every week for a month. This goal includes a specific activity (walking), is measurable (20 minutes, 3 times a week), achievable (for those with disabilities, this goal can be modified to suit abilities), relevant to improving health, and time-bound (results can be evaluated after a month).
Other ways of slowly improving physical health include incorporating fun fitness activities or small exercises into your day. Consider walking through parks, biking to nearby stores instead of taking the car, or hiking through nature trails on the weekend. Take the stairs instead of the elevator or get off the bus one stop early and walk to your destination. If you have a desk job, walking and stretching every hour for 5 minutes has been shown to improve overall health. Covid-19 has made exercise more difficult by restricting access to gyms and community centers. As our country slowly re-opens, consider sports which have physical distancing like badminton, tennis, or frisbee. Exercise doesn't have to be a sport – it can include dancing or any activity that increases your heart rate and gets you moving. To help prevent muscle cramps, consider including a warmup before and stretching after your fitness activity.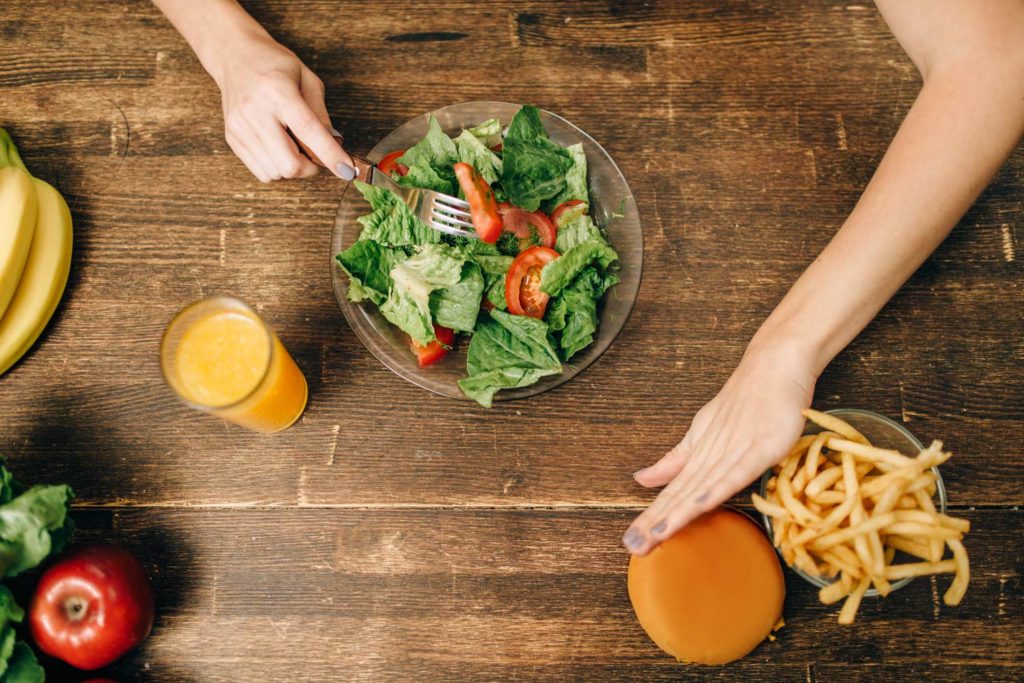 Improving eating habits
You don't have to give up all the foods you love or try restrictive diets because small positive changes that reinforce good habits go a long way to improving your overall health. A SMART goal for eating healthy can be this: incorporating one serving of fruit with your breakfast five days a week for a month. A serving of fruit can be one apple, one banana, seven large strawberries, one cup of blueberries, or any other fruit of your choice. For your dinner, consider adding one or two servings of vegetables as a side to your meal. Here is a list of 50 easy to make vegetable sides and here are over 20 that can be made in 30 minutes.
Consider where you can substitute healthy foods into your meals. Sweet potato fries are considered more healthy than regular fries and popcorn is a healthier (and lower calorie) option than potato chips. If you love deep fried foods, consider using an air fryer to cook your food instead. Air fryers can reproduce the crispy deep fried food taste while using a minimal amount of cooking oil. Consider replacing sodas, sugary drinks (this can include commercial iced teas), and processed snack foods for healthier options like herbal teas, water, and mixed nuts or greek yoghurt. The Canadian Food Guide includes more healthy habits and recipes you can try.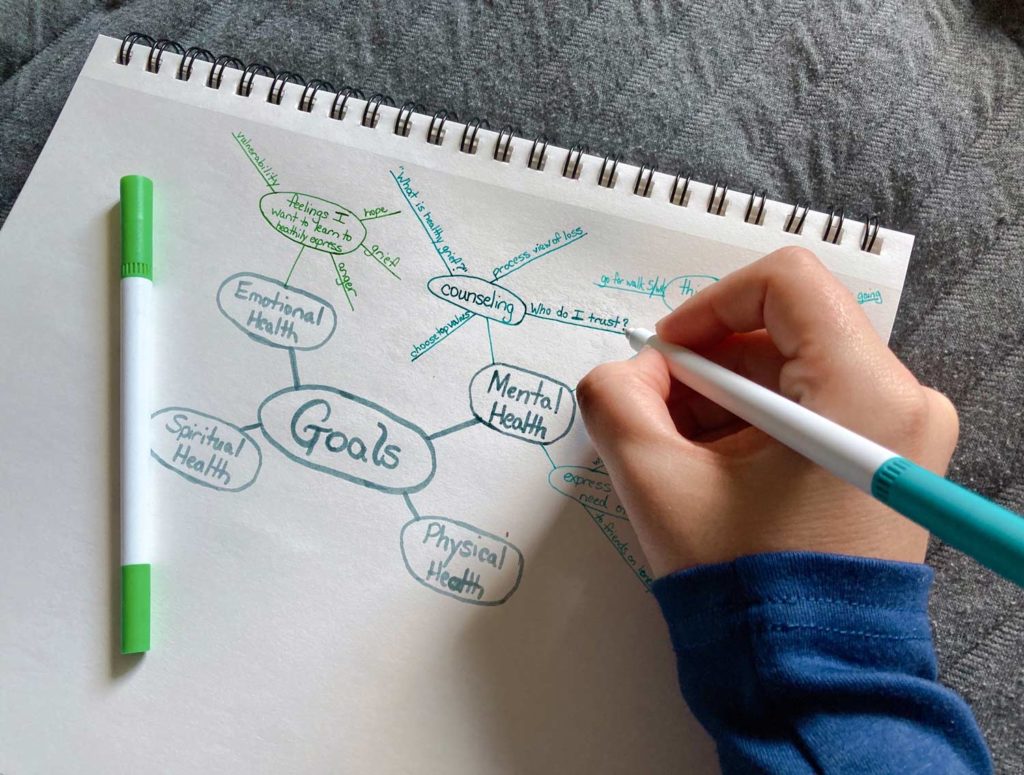 Improving mental health
Mental health is just as important as your physical health. Stress, anxiety, and other issues can prevent you from fully enjoying life. To improve mental health consider a smart goal where you practice 10 minute mindfulness exercises 3 times a week for a month. Mindfulness is a form of mediation that focuses on breathing and bodily awareness. Anxiety Canada has a guide here. Another step to improve mental health is to make small steps towards gaining control over your stressors. If your stress is financial, consider taking actions that help you gain control over your finances. A SMART goal can be tracking your credit card expenses for a 3 month period to gain an understanding of where you can cut back to save and where you can indulge.
Good regular sleep is also very important to your mental and physical health. If you are having trouble sleeping, consider creating a before-bed routine you complete every night to prepare your body for sleep. This can include drinking non-caffeinated tea and reading a book for 20 minutes after cleaning up, brushing your teeth, and putting on pyjamas. The regularity of the routine can help your body prepare for sleep. Steer clear of electronics one hour before bed.
It takes three weeks, on average, to get used to a new routine. Consider creating a three week to one month cycle for your SMART goals where you can try to improve or introduce a new habit once a month, after the previous good habit has stuck. Don't give up! Its ok if you feel you didn't accomplish your SMART goal. It's important to honestly evaluate why you didn't succeed and create a new goal that takes into consideration any obstacles that prevented you from reaching your previous goal.
We hope you liked out latest Health Hint!
Written by Jennifer Nemcik
REFERENCES
https://food-guide.canada.ca/en/
https://www.foodnetwork.com/holidays-and-parties/articles/50-vegetable-side-dish-recipeshttps://www.foodiecrush.com/quick-healthy-vegetable-side-dishes-in-30-minutes-or-less/
If you would like to support the health of Ontarians, you can donate to Federated Health Charities