Client Spotlight: The Impact of Your Dollars
"No matter what happens to you, it doesn't have to define who you are or who you want to become." This is what 44-year-old Chad White wants others with Hemophilia and other inherited bleeding disorders to know. Chad's journey has been nearly unbearable at times, but he is using his battle to inspire others.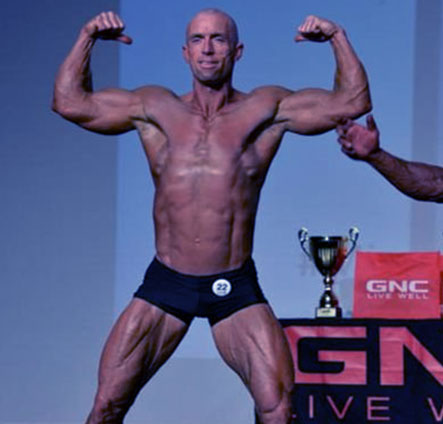 He was diagnosed with Mild Hemophilia A as a child, a bleeding disorder which makes it difficult for his blood to clot. This can mean that a little bump against the kitchen table on the way to work can quickly become a trip to the hospital if intravenous clotting factor is not administered quickly. This can make life difficult and painful on a physical level, but also mentally exhausting as energy is spent every day on awareness and control of your body. Hemophilia is a rare genetic condition passed through the family line, the most famous example of which is Queen Victoria's family and her great grandson, Alexei, the son and heir to Tsar Nicholas II of Russia. Chad's diagnosis on the other hand, came as a shock to his family because it was a random mutation, and they were not prepared for the impact it would have on their lives.
Chad was active throughout his life in sports and always strived to be the best in every aspect of his life in spite of his Hemophilia. He used sports as an outlet for his anger at his condition and felt that if he ignored the pain he could push his way through it – this lead him to make decisions that had a negative impact on his life and he convinced himself that he could outrun his problem and not admit that he was different. Thankfully, Chad had the support of his Hemophilia Treatment Centre throughout his journey to accept and learn to live with his Hemophilia. It is through the tireless advocacy efforts of Hemophilia Ontario and its sister organizations throughout Canada that people with bleeding disorders have access to a dedicated healthcare and social support network. The Canadian Hemophilia society has worked with government and with the health care system to make sure that all people with bleeding disorders have access to a full complement of haematologists, nurses, physiotherapists and social workers. These dedicated clinicians ensure that when a person with a bleeding disorder falls down, they have the care and support they need to get back up again.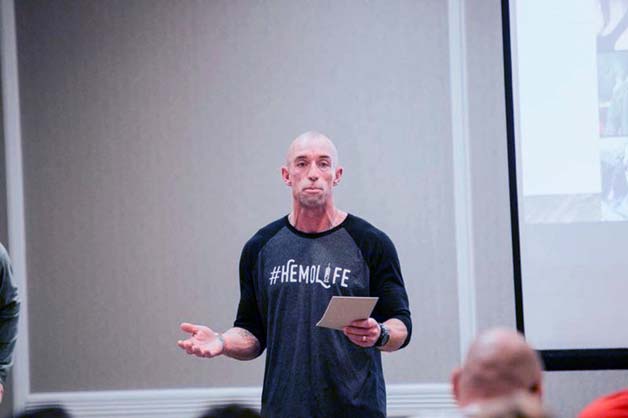 In 2009, Chad was faced with a major health decision. He was diagnosed with a stomach cancer gene that would cause him to develop cancer in the near future, so he made the hard decision to have his stomach removed. Cancer was found during the surgery, and Chad knew then that he had made the right decision and was able to continue without the need for chemotherapy or radiation. His physical recovery was hard, but his mental recovery was just beginning: he knew something had to change. Chad has four amazing kids and is married to a remarkable woman named Jocelyn, who embraced his journey and his kids. As part of his recovery, Chad began bodybuilding and pushing himself physically, but he still struggled with accepting his Hemophilia. He experienced significant mental health challenges as a result and eventually made the courageous decision to seek treatment. Through treatment he found out he was suffering from PTSD as a result of his bleeding disorder, and that though he found ways to cope, he had been "afraid of his story". He was embarrassed by his journey and his trials but realized the thing that he was afraid of was the same thing that could give courage to others.
Chad was able to access the bleeding disorders community through Hemophilia Ontario and began sharing his story with people going through the same things he was. Through this experience he saw how other people were inspired by how he had managed to overcome so many obstacles, and to finally come to terms with his Hemophilia. He discovered that inspiring others through his story brought purpose to his pain. Hemophilia Ontario aspires to give people like Chad a platform to share their experiences and to access the support they need to lead active and healthy lives. By speaking about his experiences, he is hoping to open up a frank and honest conversation about the mental health impact of living with a chronic illness.
Chad is currently playing competitive soccer and competing in bodybuilding shows. He has linked up with #HemoLife and wants to tell others not to give up, no matter how hard their struggle may be. He wants to share his story with as many people as possible and hopes to one day speak at the World Hemophilia Conference. His favorite motto is: "I couldn't control the waves so I had to learn how to surf".