Client Spotlight: The Impact of Your Dollars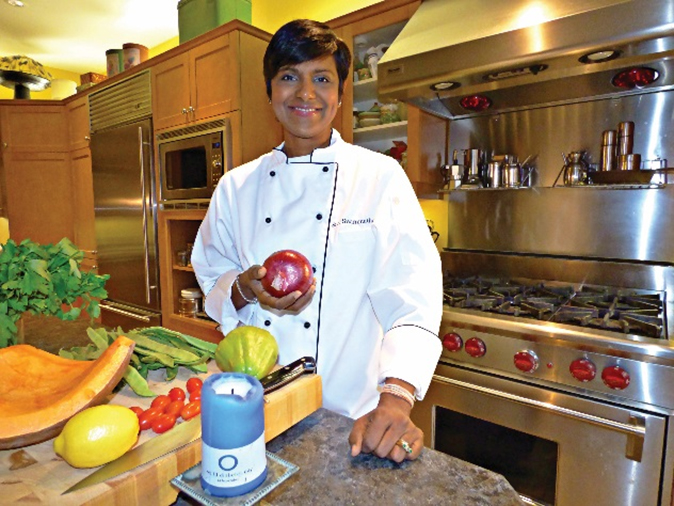 As a chef and owner of Chezsiva Cooking School, Siva Swaminathan enjoys talking about good nutrition and good food. As a person living with type 1 diabetes and co-founder of Diabetes Canada's South Asian diabetes chapter, she is even more passionate about sharing her message with others in her community who are living with the disease. With good reason: People of South Asian descent are one of the populations at a higher risk of developing type 2 diabetes.
It is a huge task, given that the Greater Toronto Area includes people from Sri Lanka, India, Pakistan, and Bangladesh—with many languages, such as Hindi, Punjabi, Urdu, Gujarati, Bengali, and Tamil. "India in itself, I call it a mini Europe!" says Swaminathan, originally from India herself.
Because of this "incredible diversity," she says, "one solution is not going to fit all. We really need to have community members who will voice their opinion" on materials and presentations from Diabetes Canada to ensure the information represents their culture and lifestyle correctly. "Otherwise people will just put it through the shredder because it won't be taken seriously."
In 2005, Swaminathan was diagnosed with type 1 diabetes at the age of 40. One of her first projects for Diabetes Canada involved working on the nutrition committee to review a pamphlet about diabetes and food, and she helped ensure the meal suggestions were appropriate for the South Asian audience, and were available in a variety of languages.
The message that lifestyle matters when it comes to good diabetes management and prevention also needs to be tailored to South Asian audiences, many of whom attend Diabetes Canada information sessions and diabetes expos. "Maybe [people] have recently immigrated or they are working two jobs just to keep up in terms of all the things they want to give their children—because they came here for a better life. So they're stressed and don't have time to think about food," says Swaminathan, executive chair of the chapter. "We need to connect the dots about how the food is going to affect their blood sugar and how their lifestyle—in terms of getting off the sofa relaxing after a long day, and exercising—is also going to affect their blood sugar." In November 2018, the South Asian Diabetes Chapter and Diabetes Canada held a successful 11th annual expo. Swaminathan has also volunteered on Diabetes Canada's National Advocacy Committee and Ontario Advocacy Committee. For Diabetes Awareness Month in 2016, the committee went to the provincial legislature to talk to Members of Provincial Parliament about the need for a province-wide policy for children with type 1 diabetes in schools, and for "offloading devices" that shift weight from injured or sensitive parts of the feet in order to help avoid dangerous foot ulcers and amputations. Says Swaminathan, "For me, it's all about helping people with diabetes, from getting funding to live healthy lives, to creating diabetes awareness and education among those with or at risk for the disease."