Federated Health Charities' mission is to improve the health and quality of life of Ontarians. We believe education and prevention are key parts of this. Check out our latest Health Hint on how to avoid caregiver burnout!
Having a spouse or family member who is ill affects the entire family unit.  There is pain, emotions, struggles and obstacles experienced by the person living with the illness, but there is also pain, emotions, struggles and obstacles for their loved ones and the impact of these can often be overlooked or minimized.  Family members commonly take on the role of being the primary caregiver for their loved one and this allows the person to remain in the home, to have care provided by someone they trust and are comfortable with, and to ensure they are cared for according to the families wishes.  Depending on the illness and the level of care required, this role can take a considerable amount of time and effort and take a toll on the caregiver over time.  This can result in caregiver burnout, which is the accumulation of the overwhelming challenges experienced by primary caregivers and impacts physical, mental and emotional well-being.  Caregiver burnout can bring on feelings of extreme fatigue, depression, anxiety, stress, and guilt. 
WebMD identifies the following as common symptoms of caregiver burnout (WebMD, 2020):
Withdrawal from friends and family
Loss of interest in activities once enjoyed
Feeling sad, irritable, hopeless, and helpless
Changes in appetite, weight, or both
Changes in sleep patterns
Getting sick more often
Emotional and physical exhaustion
Using alcohol and/or sleep medications more than normal or to excess
It can be challenging for caregivers to prioritize themselves and their well-being, but it is critical to do so.  In order to be able to continue providing support and care to their loved ones, caregivers need to remian emotionally, mentally and physically strong.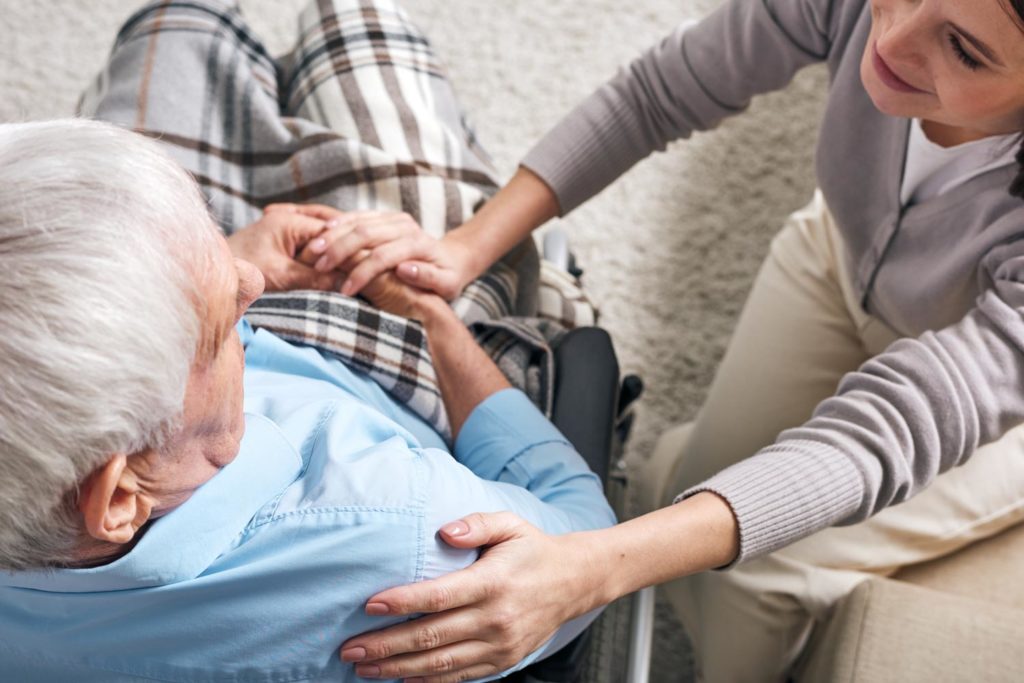 WebMD has identified the following steps that can be taken to prevent caregiver burnout (WebMD, 2020):
Know your limits, check-in with yourself, and recognize your potential for caregiver burnout.
Find someone you trust — a friend, co-worker, or neighbor — to talk to about how you feel.
Set realistic goals. Accept that you may need help, and turn to others to handle some tasks.
Be realistic about the disease your loved one has, especially if it's a progressive disease such as Parkinson's or Alzheimer's.
Set aside time for yourself, even if it's just an hour or two.
Talk to a professional, such as a therapist, social worker, or clergy member.
Find caregiver support groups or workshops that can help you find ways to manage stress.
Educate yourself. The more you know about the illness, the more effective you'll be as a caregiver.  
Stay healthy by eating right and getting plenty of exercise and sleep.
There are options available for additional support, if they make sense for the family and their preferences.  These can include home health care services that provide personal support workers or nurses to come to the home and assist with caregiving tasks, private care aides to focus on your specific families care needs, or nursing home or assisted living facilities which sometimes provide short-term respite stays to give caregivers a break (WebMD, 2020).
The Ontario Caregiver Organization (https://ontariocaregiver.ca/) is also a great resource providing information pertaining to your specific caregiving situation, opportunities for connection and support, and many other helpful services. 
 We hope you've enjoyed our latest Health Hint!
Written by: Sarah Wood 
NOTE: This article is intended to provide general health tips based on available research. You should consult with a health care professional for specific medical and dietary instructions that are right for you.
References:
WebMD. (2020, Oct. 6). Recognizing Caregiver Burnout. https://www.webmd.com/healthy-aging/caregiver-recognizing-burnout#1
If you would like to support the health of Ontarians, you can donate to Federated Health Charities